ENV01 – Environmental Sensor
£350.00 – £430.00
The OpenSmartMonitor ENV-01 RevC is an environmental sensor and energy monitoring device developed to monitor a multitude of parameters within your business, using the LoRa long-range robust wireless standard.
The unit is capable of measuring sound, light, temperature, humidity and particles. External monitoring features include water, gas and electricity metering via pulse and  Modbus RTU RS485 connectivity. We use LoRaWAN and a LoRaWAN gateway to connect our sensors to the cloud and ultimately the internet. We offer cloud-based data hosting and visual dashboards running via Grafana (A powerful Open source platform).
Description
Visit www.opensmartmonitor.co.uk for a more in-depth look at our environmental sensors and our demo dashboards
Looking to decarbonise your business? Look no further than OpenSmartMonitor! The ENV01 is an environmental Sensor that will provide you with all the tools you need to get started. Recording live data and saving that data on a dashboard puts it in to a visual perspective of what energy you are using and where you can start to save. This box of wonders can record parameters including; Electricity usage, Water usage, Humidity, Sound, Air quality, Temperature, and Light. The box is also relatively small, fitting into tight areas and not being too intrusive of space.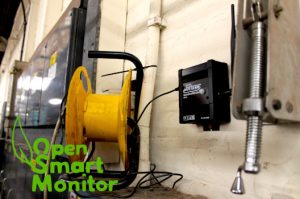 Using the LoRaWAN wireless standard, this environmental sensor has a typical range of several kilometres which means it's possible to monitor larger sites and buildings with ease. Off the shelf LoRaWAN gateways can be used or our HILTOP can optionally be configured for local control and monitoring. On top of all of this, with it being of a small size, the ENV01 can fit into almost any space without sticking out like a sore thumb. This is perfect for busy work spaces with not a lot of room.

Monitoring your data in real-time using beautiful open source dashboards, like Graphana, available from a simple webpage login. We can help you setup corporate dashboards on TV screens in offices, factories and reception areas so staff can see the data all the time. We have some videos on our YouTube of Tim demonstrating the Graphana Dashboard which will give you a great visual insight into what this looks like. View YouTube Playlist
Another useful feature is being able to setup automatic alarms and alerts to notify you by email or SMS if parameters are outside of your chosen operating limits.Devtank supply turn key test and measurement solutions. Please contact us with your requirements and we will be happy to advise you.
Download the PDF Datasheet
Additional information
| | |
| --- | --- |
| Color | Blue, Green, Red |
| Size | Large, Medium, Small |
| Region | Europe, USA/AUS, Korea, Asia, India |