HILTOP Bare
£550.00
An industrial Mini-ITX form factor motherboard based around the Raspberry Pi 4 compute module (CM4) which can be used as a low-cost solution for control and monitoring applications.
Access to 1 x 40 pin GPIO headers (Rasp. Pi Compatible) and all built-in motherboard peripherals, including Adjustable power supply, SATA, USB2.0, HDMI, CAN-FD, RS485, RTC, Camera & Display ports.
Note: The Open-VTI backplane cannot be accessed within a standard ATX-style PC case. (For backplane options – see Compact and Maxi HILTOP Chassis)
Description
View and Download the full datasheet
The HILTOP Motherboard was born out of necessity in 2015 for one of Devtank's early customers. We needed a quick method to deploy an industrial Raspberry Pi based solution for a telecoms customer in the USA and the HILTOP motherboard was created, based on the Raspberry Pi 4 Compute Module. The Motherboard is designed to work with our HILTOP Chassis which then enables access to a range of plug-in Open Test Modules using the Open VTI backplane standard.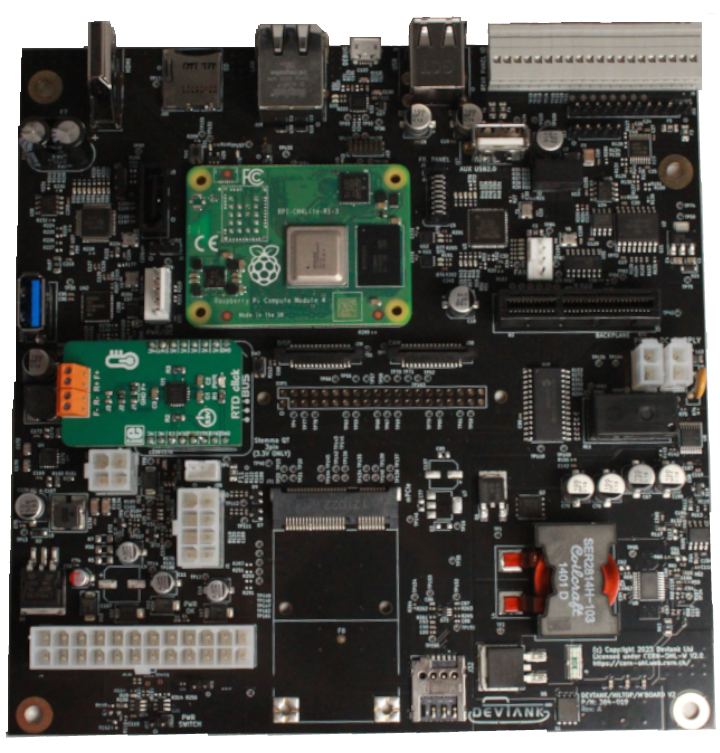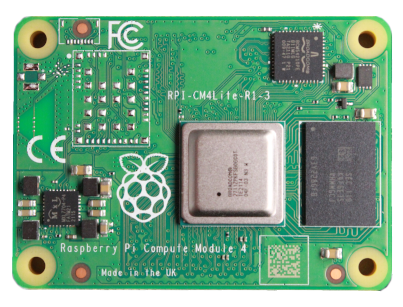 The motherboard is designed to work with the Raspberry Pi CM4 module providing a powerful 64-bit ARM processor core with 1GB RAM for you to build industrial products with. This is essentially the core components from a Raspberry Pi 4 Model B+ but without the EMMC flash. There is an SD card holder for you to serve up as the flash memory for the Pi. Simply fit an SD card hosting the operating system of your choice to make deployment easy. We offer a premium OEM quality SD card with or without a development image to get you started.
The HILTOP CM4 Motherboard is packed full of features, compatible with the existing eco-system of Pi HAT's and ready for deployment on your industrial applications. Please visit our GitHub site for design material and user guides.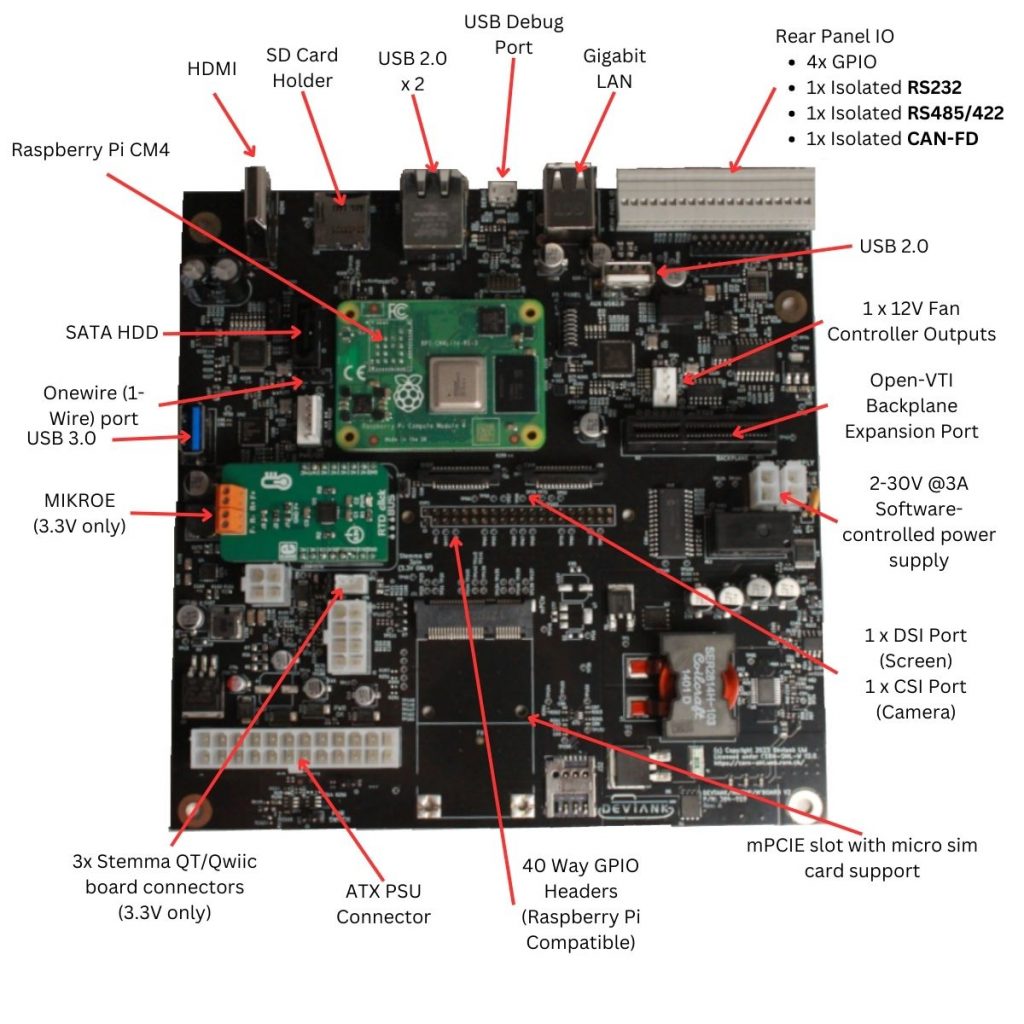 Additional information
| | |
| --- | --- |
| CPU | Raspberry Pi CM4 |
| HDD | SATA Interface for external disks |
| Display | DSI (FFC-15 way) (Touchscreen) and HDMI |
| Camera | CSI Port (FFC-15way) |
| Connectivity | 2 x External Fan drivers, 2 x Isolated CAN FD channels, 2 x Isolated RS485 Channels, 2x 40 Way main board GPIO Headers for internal expansion, 4 x USB 2.0 ports, Gigabit LAN, Open VTI Backplane Port |
| Peripherals | 2-30V DC Adjustable Power Supply, EEPROM for Config Data, Onboard Temp Monitor, RTC |
| Power Supply | 110-240V AC or DC options |
| Other | Touchscreen (DSI) & Camera (CSI) support |