Devtank are pleased to see this news from Indra this week and look forward to our continued work on V2X test solutions. What does this mean for Indra and V2X? Indra has been awarded funding as a leader in bidirectional charging technology, with two projects being selected – Next Generation V2X Power Module and INFLEXION V2X. This will help these projects develop more efficiency, power and affordability for use in the real world and establish the UK as a leader in the global EV market.
V2X Innovation Programme - Gov.uk
Read Indra's Article
What is V2X?
V2X is an electric car charging device known as Vehicle-to-Everything. This enables EV owners to charge their car batteries whilst also assisting anything else which is in demand of electricity. V2G and V2H are other instances with a narrower electricity share location. V2G or Vehicle-to-Grid will discharge power back into the grid when it is in high demand. V2H or Vehicle-to-Home gives electricity back to your house when your own uses peak.
Devtank and Indra
Indra came to our team in search of production and end-of-line test solutions for their EV chargers. We have since built multiple production line test solutions through our HILTOP and four bespoke end-of-line test solutions, with two more being built as we speak. The production line test solution is our off-the-shelf HILTOP and JigTOP setup to enable easy and stable motherboard testing in-house. Using the HILTOP as the base of the end-of-line test solution, we designed and built a rig which simulates an electric vehicle being charged.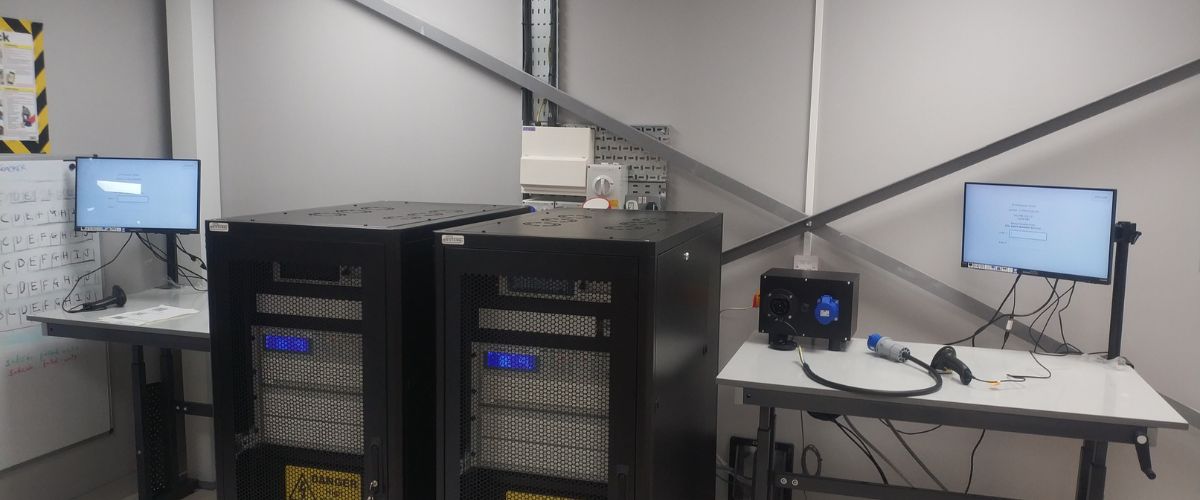 Both of these projects will be funded by the Department for Business, Energy and Industrial Strategy (BEIS), delivered by Innovate-UK.
Mike Schooling, Indra's Founder and Chief Technology Officer, commented:
"As pioneers in bidirectional charging technology, Indra is delighted to receive funding to develop the capabilities of V2X even further. Making energy smarter has never been more important and, with V2X technology, an electric vehicle effectively becomes a personal energy storage device on wheels, allowing power to be transferred to the home, to the workplace or even back to the grid. This game changing technology can deliver major cost and environmental savings and Indra is committed to bringing this innovation closer to wider real-world use."
Energy and Climate Minister Graham Stuart said:
"We want to make smart charging an easier choice for drivers of electric vehicles, whether that is charging on the driveway, at the workplace, or parked on the street. To do that we need to build new network infrastructure at pace, using the latest available technologies.
"Today's plan sets out how we will work with Ofgem and industry to kickstart the market for smart charging, which we are backing it up with £16m in innovation funding. This will let people take control of their energy usage, in the most convenient and low-cost way."